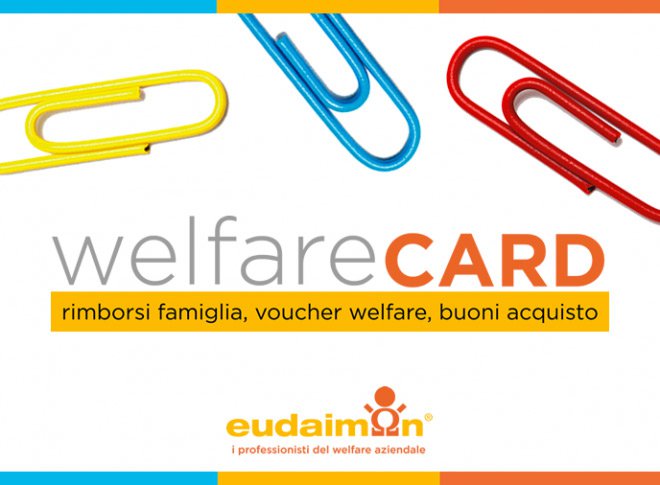 It's called Welfare Card the solution that provides metalworkers with a wide and complete offer of Employee Welfare goods and services!
·        Why is it convenient?
The CCNL Metalworkers renewal provides for the firms to deliver their employees an offer of Emplyee Welfare goods and services worth 100 euros, starting from June the 1st 2017; Eudaimon's WelfareCARD is the tool that best complies with these contractual obligations. With one click and several benefits, the employee will be able to purchase among all the goods and services provided by Federmeccanica's Circular dated March the 1st 2017.
Corporate's benefits:
1.     It' a ready-to-go service: Eudaimon will manage all about it: employees' refunds, suppliers' payment, accountability;
2.     it allows the user to spend the CCNL Metalworker value of 100 euros on the widest offer of goods and services today available on the market;
3.     it can be used with the 100 euros provided in 2017, increased to 150 and 200 euros respectively starting from June the 1st of 2018 and June the 1st 2019;
4.     the corporates that have already used the untaxed value of goods and services up to 258,23 euros provide their employees with a wide offer of services where to spend such credit;
5.     It is scalable, hence is the most handy and convenient solution for supplying the performance bonuses as well as other Employee Welfare related hand-offs
Benefits for the employees:
The employees can spend the economic value contained in their Welfare Card according to the modalities provided by the regulations in force:
- purchase of goods (Art. 51 c. 3). Digital or paper vouchers to be spent on GDO food operators, electronics, shopping, free time, fuel, e-commerce websites.
- purchase of services (Art. 51 c. 2 lett. f + Art. 100 TUIR). Those are Welfare Vouchers, forms of identification that allow the user to buy services related to social and health care, education, schooling and recess, including free time, sport, travels, culture and training courses.
- refund of expenses already incurred (Art. 51 c. 2 lett. f-bis e f-ter). The employee can request the refund of expenses already incurred involving the following (education, childcare, elderly and non-self-sufficient care) in compliance with the regulations in force up to the value of the welfare credit available.
·        How does it work?
It's as easy as possible: each user will be able to access the WelfareCARD services by entering a dedicated platform using personal credentials.
For further information: info@eudiamon.it – 366 3458652